"Love Wins" has become the mantra of the LGBTQ community. It strikes a chord in all our hearts. We want everyone to experience real, lasting love. But if what the Bible says is true, doesn't that mean we are telling some people that they can't experience love? How can He be a God of love if He is telling some people not to enjoy love?
We will explore this dilemma in the third message of our "Me? Friend of All" message series. We will look at the passage that is the foundation for personal relationships (click here). We will also look at the passages about sexual relations. I encourage you to spend some time contemplating the following passages:
We will be closing with the prayer in Ephesians 3:14-21.  Consider praying this prayer for your friends and family in the LGBTQ community.
Is it safe to invite a friend? What about our kids?
People have asked, "Can a friend benefit from this next message without having heard the first two messages?" Even though this third message will deal with law passages relating to sexuality, it is my goal is to let the gospel continue to predominate. I also recognize that there are many young ears present in worship and will seek to speak carefully with them in mind. Please pray for me as I complete the message that these goals might be accomplished.
Share the messages with friends
Our online presence has increased dramatically during this message series. Last week 116 people watched live, and many more watched later. You may wish to share one or more of the messages with friends.
Unconditional Love – February 10
Unconditional Gospel – February 17
Watch The Bridge Livestream on Sunday at 10:15 am by clicking here. We are excited that we will be improving the broadcast sound of the music. Hopefully by the end of March we will have the equipment. Thanks volunteers who make all this happen!
You can find an archive of the complete Bridge services on our YouTube channel The Bridge Church Muskego by clicking here.
Sign the Check!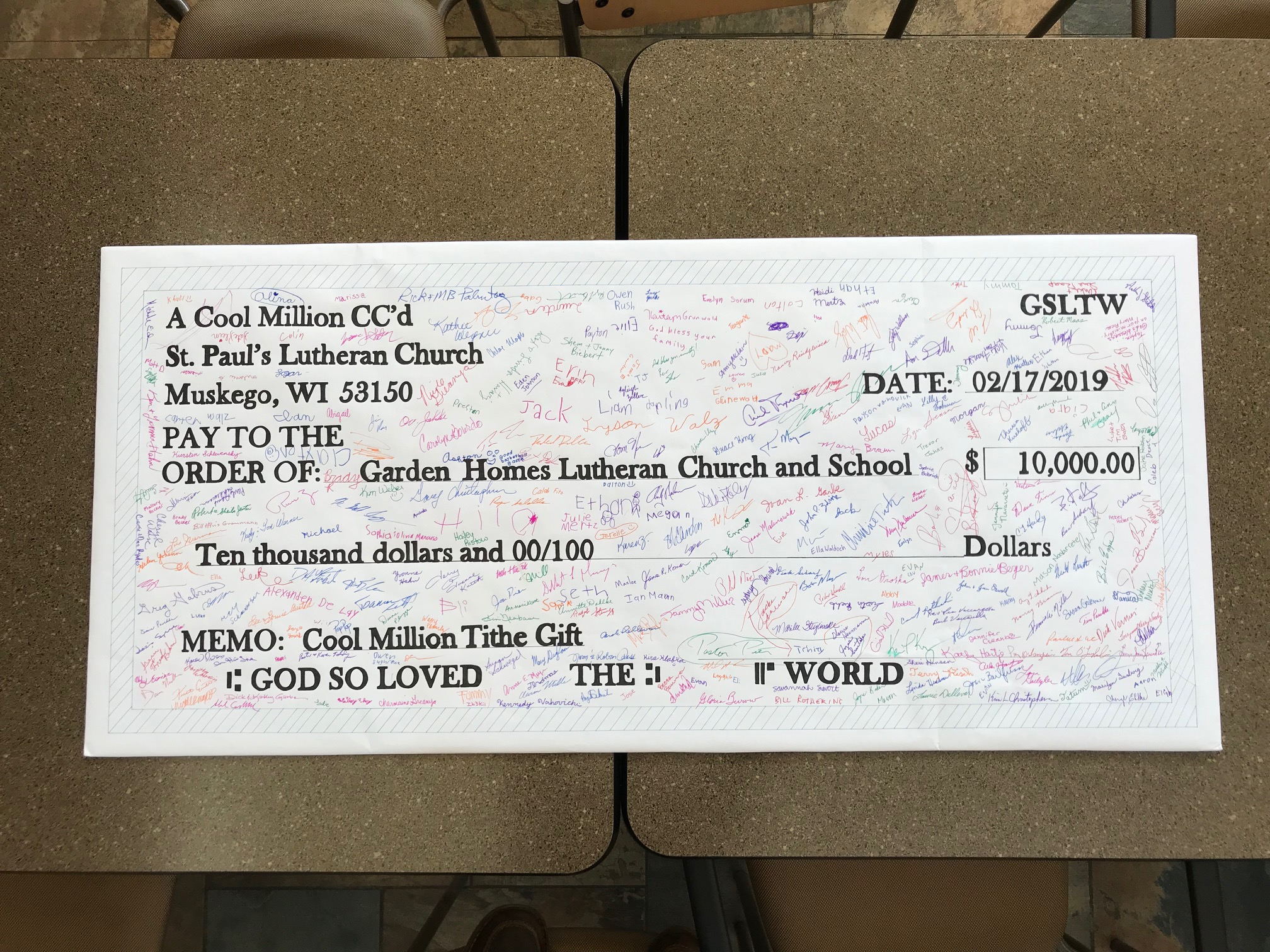 As you can see from the picture, many individuals signed our $10,000 tithe gift from our Cool Million effort. This week the check will be at The Bridge for more people to sign it. We will present it to Garden Homes Lutheran Church and School in March. We are just $19,000 short of our $500,000 half-way goal. If you are able to give a gift, clearly mark it Cool Million and place it in the offering or give a one time or recurring gift online at StPaulMuskego.org/give.  Our goal is over $800,000 by the end of summer. Learn more about the projects on the attachment.
Also attached is an article about our congregation's relationship with Garden Homes Lutheran Church and School and this week's St. Paul's News.
We look forward to seeing many of you this weekend in worship!
Christ's servant and yours,
Pastor Pete